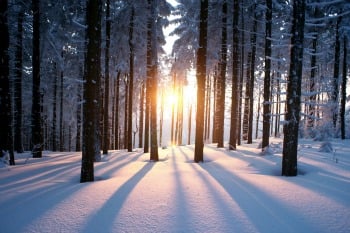 It's Cold Outside: Winter Safety Update
A snow-covered landscape is a beautiful sight. However, for the elderly (and children in particular), winter can be dangerous -- even deadly. Good preparation, planning, and education are key. As healthcare professionals, you have seen that winter has its own set of health hazards. But did you know…
Several medications prescribed for diabetes and heart conditions can predispose a patient to hypothermia. Many elderly, in an attempt to save money, will lower their thermostats -- which could result in hypothermia. And we all know that children do not always follow directions when it comes to safe winter play. The education you provide could save a life. Below are some tips for winter safety; share them with your patients.
Prepare Your House for Winter:
Ensure the home has weather stripping, insulation, and storm windows
Water pipes running along exterior walls are insulated
Have safe and alternative heating sources and fuels available
Ensure heating systems are working properly
Stock up on non-perishable food and water
Keep mobile phone charged
Flashlights and batteries
Radio and batteries
Prepare Your Car for Winter:
Keep gas tank full
Use winter formulations in your vehicle's windshield washer
Have an emergency kit in your car (blankets, food, water, flashlight and batteries)
Snow tires or chains (if permissible in your area)
Outdoor Safety:
Wear layers of clothing (the air between the layers works as insulation)
Wear gloves, coat and hat at all times
Work slowly
Carry a mobile phone
Buddy up
Take warm-up breaks
Pet Safety:
Bring pets inside for the winter if possible
Provide adequate warm shelter and unfrozen water to drink if the pet must stay outside
Keep pet walks short and consider booties for your pet to protect their feet
Check on Those at Risk:
Identify your family, friends, and neighbors who are at risk and check on them often
Very old
Very young
Chronically ill
Winter is a beautiful and festive time of year. However, if you live and work in snow country, take care and plan ahead. Remember to monitor children, the elderly and your neighbors. Educating your patients and loved ones can help to ensure that everyone experiences a safe and healthy winter.
Biography:
Dr. Miller-Hoover is a certified Acute and Critical Care Pediatric Clinical Nurse Specialist and has worked in nursing for more than 30 years. Her nursing career has taken her from the bedside to education and leadership in critical care units where she has cared for patients of all ages. Dr. Miller-Hoover is a published author in peer-reviewed nursing journals and has been accepted for various poster and podium presentations at national conferences.

References:
National Oceanic and Atmospheric Administration [NOAA]. (2015). Winter is a killer: Simple steps to stay safe #WinterSafety.
Centers for Disease Control and Prevention [CDC]. (2015). Be prepared to stay safe and healthy in Winter Nemours Foundation. (2015). How to be safe in ice and snow National Institute on Aging [NIA]. (2015). Stay safe in cold weather