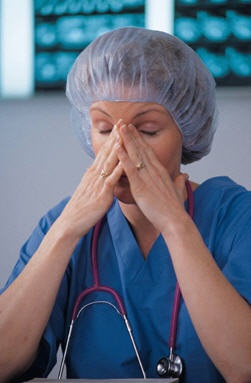 Dangerous Decibels: Hospital Noise More Than a Nuisance
Imagine a world where hospitals have become so noisy that the annoyance has topped hospital complaints, even more than for the tasteless, Jell-O-laden hospital food (Deardorff, 2011). If you're a nurse, you know that we're already there – with noise levels reaching nearly that of a chainsaw (Garcia, 2012). In fact, for more than five decades, hospital noise has seen a steady rise (ScienceDaily, 2005).
But it wasn't always that way. At one time, hospitals were virtually noise-free like libraries – respected spaces, preserved as quiet zones. The culture was such that a loud visitor might be silenced by a nurse's purposeful glare or sharply delivered "Shhh!" As early as 1859, the importance of maintaining a quiet environment for patients was a topic for discussion. In Florence Nightingale's book, "Notes on Nursing," she described needless noise as "the cruelest absence of care" (Deardorff, 2011).
Fast forward to 1995, when the World Health Organization (WHO) outlined its hospital noise guidelines, suggesting that patient room sound levels not exceed 35 decibels (dB). Yet since 1960, the average daytime hospital noise levels around the world have steadily risen to more than double the acceptable level (from 57 to 72 dB), with nighttime levels increasing from 42 to 60 dB. WHO found that the issue was not only pervasive, but high noise levels remained fairly consistent across the board, despite the type of hospital (ScienceDaily, 2005).
Researchers at Johns Hopkins University began to look into the noise problem in 2003. They maintained that excessive noise not only hindered the ability of patients to rest but raised the risk for medical errors. Other studies blamed hospital noise for a possible increase in healing time and as a contributing factor in stress-related burnout among healthcare workers (ScienceDaily, 2005).
Technology is, of course, partly to blame. State-of-the-art machines, banks of useful alarms, respirators, generators, powerful ventilation systems, and intercoms all add up to a lot of unwanted racket. When human voices are added to the mix, (i.e., staff members being forced to speak loudly over the steady din of medical equipment), it's anything but a restful environment. For the recovering patient in need of sleep, that can be a real issue (Deardorff, 2011).
Contributing to the problem, experts say, are the materials used in hospitals. Because they must be easily sanitized, surfaces cannot be porous where they could harbor disease-causing organisms. Rather than using noise-muffling materials like carpet, acoustic tiles, and other soft surfaces, hospitals have traditionally been outfitted using smooth, hard surfaces – especially in patient rooms. Good for cleanliness – not so great for dampening sounds, which tend to bounce around the typical hospital (Deardorff, 2011).
This brings us to the most recent research, published in January 2012 in the Archives of Internal Medicine. In the report, Jordan Yoder, BSE, from the Pritzker School of Medicine, University of Chicago, and his colleagues' associated elevated noise levels with "clinically significant sleep loss among hospitalized patients," perhaps causing a delay in their recovery time (Garcia, 2012). During the 155-day study period, researchers examined hospital sound levels. The numbers far exceeded (WHO) recommendations for average hospital-room noise levels, with the peak noise at an average of 80.3 dB – nearly as loud as a chainsaw or electric sander (85 dB), and well over the recommended maximum of 40 dB. And while nights tended to be quieter, they were still noisier than recommended allowances, with "a mean maximum sound level of 69.7 dB" (Garcia, 2012).
Perhaps most interestingly, the researchers broke down the sources of noise into categories: "Staff conversation (65%), roommates (54%), alarms (42%), intercoms (39%), and pagers (38%) were the most common sources of noise disruption reported by patients" (Garcia, 2012). "Despite the importance of sleep for recovery, hospital noise may put patients at risk for sleep loss and its associated negative effects," they wrote. In addition, researchers found that the intensive care and surgical wards had some work to do in dampening noise levels, with ICU peaking at 67 dB and 42 dB for surgical areas. Both far exceeded WHO's 30 dB patient room recommendation (Garcia, 2012).
Besides patient sleep deprivation, which itself can lead to a multitude of health problems including high blood sugar, high blood pressure, and fatigue, studies have reported that elevated noise levels can increase heart and respiratory rates, blood pressure, and cortisol levels. Recovery room noise causes patients to request more pain medication, and preterm infants "are at increased risk for hearing loss, abnormal brain and sensory development, and speech and language problems when exposed to prolonged and excessive noise" (Deardorff, 2011).
There is still more research to be done, of course, but Yoder and his colleagues had good news, as well; much of the hospital noise they identified is modifiable, suggesting that hospitals can take steps to successfully create a quieter environment for both patients and healthcare providers (Garcia, 2012).
Around the country, "quiet campaigns" have been launched by hospitals in an attempt to dampen nighttime noise. Besides dimming lights and asking staff to keep their voices down at night, they are working to eliminate overhead paging systems, and replace the wall and/or floor coverings – even the clang of metal trashcans. Northwestern's Prentice Women's Hospital in Chicago was built with noise reduction in mind, replacing the idea of centralized nursing stations with the advent of smaller, multiple stations (Deardorff, 2011)
Billed as "one of the nation's largest hospital construction projects," Palomar Medical Center in North San Diego County is a state-of-the-art facility that has been designed "to encourage quietness," according to Tina Pope, Palomar Health Service Excellence Manager. Slated to open its doors this August, the hospital will feature a new nursing call system to route calls directly to staff and help eliminate the need for overhead paging, de-centralized nursing stations, and clear sight lines, allowing staff to check on patients without having to leave unit doors open. Measures already in place include "Quiet Hospital" badges on staff and posters at the entrance of every unit, a "Quiet at Night" campaign (9 p.m. – 6 a.m.), and a "Quiet Champions" program that encourages staff to report noise problems, Palomar is one of a growing number of hospitals working toward a new era of quiet.
References:
Deardorff, J. (2011). Chicago Tribune.com. Chicago Tribune, Health. Hospitals drowning in noise. Garcia, J. (2012). Medscape.com. Medscape Today, News. Hospital Noise Results in Significant Patient Sleep Loss. Sciencedaily.com. (2005). Rise In Hospital Noise Poses Problems For Patients And Staff.