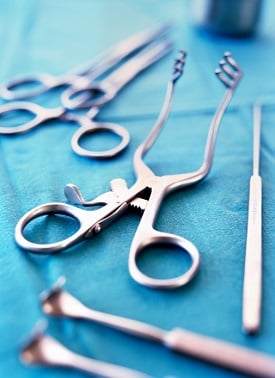 Danger in the OR: Dirty Surgical Instruments
In the United States, approximately 46.5 million surgical procedures are performed each year (CDC, 2008). Each procedure involves contact by a medical device or surgical instrument with a patient's sterile tissue or mucous membranes. A major risk of all such procedures is the introduction of pathogens that can lead to infection. Failure to properly disinfect or sterilize equipment carries not only risk associated with breach of host barriers but also risk for person-to-person transmission (e.g., hepatitis B virus) and transmission of environmental pathogens, such as Pseudomonas aeruginosa (CDC, 2008).
OR nurses understand the importance of following protocol in the operating room, but do the technicians responsible for sterilizing equipment do the same? Recent outbreaks of bacterial infections in post-operative patients in a Texas hospital, led to an investigation by the Centers for Disease Control and Prevention (CDC). Dirty arthroscopic shavers were deemed the source of the bacterial contamination and new concerns over the adequacy of instrument decontamination and sterilization have been raised.
The cleaning and processing of surgical instruments is the responsibility of the Sterile Processing Department (SPD). The OR staff rely on SPD to effectively clean and sterilize surgical instruments and equipment, as well as ensure the accuracy and safety of instrument sets. However, sterile Processing Technicians receive little or no training. At the same time, they play a major role in patient safety outcomes. Because instrument processing is one of the first lines of defense against infection in surgical patients, it is critical that instruments are efficiently and effectively cleaned and sterilized (Stratton, 2012).
Perhaps the time has come for establishing minimum training requirements for Sterile Processing Technicians. Ellis (2012), recommends that Sterile Processing workers should gain certification from the Certification Board of Sterile Processing & Distribution, Inc., or the International Association of Healthcare Central Service Material Management (IAHCSMM).
At the same time, perioperative nurses can help facilitate the safe handling and decontamination of surgical instruments by delivering used surgical instruments to the SPD in an orderly and protected manner (Stratton, 2012). Stratton also calls for the establishment of a collaborative working relationship between OR staff and SP personnel, as both are essential patient care partners.
Disinfection and sterilization are essential for ensuring that medical and surgical instruments do not transmit infectious pathogens to patients. According to the CDC (2008), multiple studies in many countries have documented lack of compliance with established guidelines for disinfection and sterilization. Failure to comply with scientifically-based guidelines has led to numerous outbreaks.
In 2008, the CDC published Guidelines for Disinfection and Sterilization in Healthcare Facilities, in which it presented evidence-based recommendations on the preferred methods for cleaning, disinfection and sterilization of patient-care medical devices, and for cleaning and disinfecting the healthcare environment.
References:
Carroll, L. (2012). Dirty surgical tools: Gross, dangerous and more common? Today's Health. Centers for Disease Control and Prevention [CDC]. (2008). Guideline for Disinfection and Sterilization in Healthcare Facilities. Ellis, J. (2012). Sterile Processing Manager's Perspective: Developing Good Working Relationship among Personnel in the OR and SPD. AORN Journal, 95 (1), p. 79. Stratton, M. (2012). Perioperative Nursing Administrator's Perspective: Developing Good Working Relationship among Personnel in the OR and SPD. AORN Journal, 95 (1), p. 80.