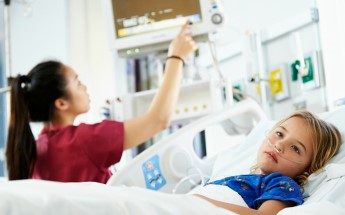 Understanding Pediatric Palliative Care
What do you think of when you hear the words "palliative care?" Do you think end of life care? Do you think about pain relief or pain control? Do you use hospice and palliative to describe the same care? Do you think about adult patients?
Pediatric Palliative Care vs Adult Palliative Care
Adult palliative care is synonymous with end of life care; however, pediatric palliative care is a holistic, multidisciplinary approach aimed at addressing the complex issues related to the care of children and families facing chronic life limiting illnesses. Pediatric palliative providers focus on the difficult decisions regarding the benefits of medical technology versus their impact on quality of life and the values of the patient and family (AAP, ND).
The American Academy of Pediatrics defines the goals of pediatric palliative this way:Palliative care for children aims to improve quality of life for the patient and the family. This is done through expert management of pain and other physical symptoms such as shortness of breath, nausea, vomiting, and anxiety. It is also done through emotional, spiritual and other support services to help the patient and family cope with the roller coaster of emotions that result from dealing with a serious illness or condition (AAP, ND).
As healthcare providers, we need to develop a standard of care to promote the welfare of pediatric patients living with a life-threatening or life ending condition. These standards must include the family as a whole. Using the following principles may help guide the development of your institution's standards:
Respect
Dignity
Access to competent/compassionate care
Support for caregivers
Professional, social and financial support
Acknowledgment of the child's wishes
Healthcare providers need to recognize that if palliative care is reserved only for children who have a terminal condition, other patients who may benefit from these services may not receive them. If the imminence of death continues to be used to determine who should receive palliative care, some children may die without the benefit of individualized family-centered palliative care.
Pediatric palliative care is an emerging discipline. There are roadblocks to pediatric palliative care which need to be addressed so that the patients requiring this specialized service can obtain it. Financial support is one of the biggest roadblocks. Educating yourself and those around you about pediatric palliative care is tantamount to a successful program. Patients with life-threatening diseases deserve to have their symptoms managed by palliative care experts so that they and their families can live life to the fullest (AAP, 2000).
"The goal is to add life to the child's years, not simply years to the child's life" (AAP, 2000).
For more information on palliative care, consider this RN.com course: "Palliative Nursing: Caring for the End of Life Patient."
References:
© 2016. AMN Healthcare, Inc. All Rights Reserved.
Biography:
Dr. Miller-Hoover is a certified Acute and Critical Care Pediatric Clinical Nurse Specialist and has worked in nursing for more than 30 years. Her nursing career has taken her from the bedside, to education and leadership in critical care units where she has cared for patients of all ages. Dr. Miller-Hoover is a published author in peer-reviewed nursing journals and has been accepted for various poster and podium presentations at national conferences.