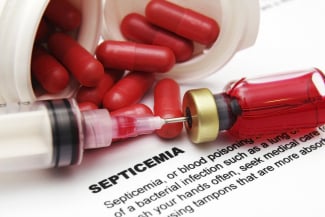 Sepsis: 2016 Update
In 2001, the definitions for sepsis and septic shock were last revised. The European Society of Intensive Care Medicine and the Society of Critical Care Medicine convened a task force of 19 specialists in January 2014 to review the literature and redefine sepsis and septic shock. Upon completion of this review, the task force invited peer review and endorsement from 31 international medical societies.
The evidence synthesis revealed that the current model (that sepsis follows a continuum from severe sepsis to shock) is misleading. Furthermore, the evidence showed that the systemic inflammatory response syndrome (SIRS) criteria lacks adequate specificity and sensitivity. Lastly, there are multiple definitions in use for sepsis, septic shock and organ dysfunction -- which can lead to discrepancies in reported incidence and observed mortality (Singh et al., 2013).
New Recommendations for Defining Sepsis
The task force made these recommendations for defining sepsis, septic shock and organ dysfunction:
Sepsis: a life-threatening organ dysfunction caused by a dysregulated host response to infection.
Septic Shock: a subset of sepsis in which particularly profound circulatory, cellular and metabolic abnormalities are associated with a greater risk of mortality than with sepsis alone.
Critical Care Units: patients with septic shock can be clinically identified by a vasopressor requirement to maintain a mean arterial pressure of 65 mm Hg or greater and serum lactate level greater than 2 mmol/L (>18 mg/dL) in the absence of hypovolemia (40% mortality rate).
General Hospital Unit or Emergency Department: adult patients with suspected infection can be rapidly identified as being more likely to have poor outcomes typical of sepsis if they have at least two of the following clinical criteria that together constitute a new bedside clinical score termed quickSOFA (qSOFA): respiratory rate of 22/min or greater, altered mentation, or systolic blood pressure of 100 mm Hg or less.
Organ Dysfunction: Can be represented by an increase in the Sequential [Sepsis-related] Organ Failure Assessment (SOFA) score of two points or more (Singh et al., 2013).
SOFA:
This score is a calculated score based on PaO2, FIO2, SaO2, platelets, bilirubin, hypotension, Glasgow Coma Scale and creatinine (for the complete score copy this link: -http://www.ncbi.nlm.nih.gov/pmc/articles/PMC2703722/).
A baseline SOFA score of zero should be assumed unless the patient has a preexisting, acute or chronic organ dysfunction prior to infection.
qSOFA:
Respiratory rate of 22 or greater.
Altered mentation.
Systolic blood pressure of 100 mmHg or less.
These measurements are not meant to be a standalone definition of sepsis; moreover, the lack of change of two or greater in the score should not deter further investigation into the diagnosis of infection, but encourage further testing for earlier recognition of sepsis. Because the qSOFA does not utilize laboratory testing, it can be used as a triage tool in the pre-hospital environment.
These updated definitions and clinical criteria should replace previous definitions, offer greater consistency for epidemiologic studies and clinical trials, and facilitate earlier recognition and more timely management of patients with sepsis or at risk of developing sepsis (Singer et al., 2016).
Learn more about sepsis from this CE course at RN.com, "Management of Sepsis in the Adult."
References:
Singer, M., Deutschman, C., Seymour, C., … & Angus, D. (2016). The third international consensus definitions for sepsis and septic shock (Sepsis 3). JAMA. 2016;315(8):801-810. doi:10.1001/jama.2016.0287.
Singh S., Haut E.R., Brotman D.J., et al. (2013). Pharmacologic and Mechanical Prophylaxis of Venous Thromboembolism Among Special Populations. Rockville (MD): Agency for Healthcare Research and Quality. Retrieved from http://www.ncbi.nlm.nih.gov/books/NBK148542/
© 2016. AMN Healthcare, Inc. All Rights Reserved.
Biography:
Dr. Miller-Hoover is a certified Acute and Critical Care Pediatric Clinical Nurse Specialist and has worked in nursing for more than 30 years. Her nursing career has taken her from the bedside, to education and leadership in critical care units where she has cared for patients of all ages. Dr. Miller-Hoover is a published author in peer-reviewed nursing journals and has been accepted for various poster and podium presentations at national conferences.