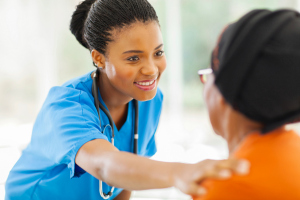 Patient Experience Counts: Inside HCAHPS
The Hospital Consumer Assessment of Healthcare Providers and Systems Survey (HCAHPS – pronounced "H-Caps") was created as the first national, standardized publicly reported survey of patient experience for participating healthcare facilities. HCAHPS was designed with the intent of an "apples to apples" appraisal with common metrics to allow valid comparisons across hospitals. In years past, many hospitals measured patient experience (aka – patient satisfaction), but there was not a standard measurement approach that enabled valid comparisons to support options for healthcare consumers.
What's the HCAHPS Survey?
Since 2008, HCAHPS has provided the public with a way to accurately compare patient experience scores as part of their decision-making process before deciding on a particular healthcare facility. Overall, the HCAHPS survey produces comparable patient experience data for participating hospitals across the country, creates incentives for hospitals to improve patient care quality, and heightens community awareness through public reporting.
HCAHPS Measures Quality of Hospital
The HCAHPS tool has a total of 32 questions which contains 21 patient care perspectives and measures nine patient rating areas: communication with doctors, communication with nurses, responsiveness of hospital staff, pain management, communication about medicines, discharge information, cleanliness of the hospital environment, quietness of the hospital environment and transition of care. Nurses have a significant impact on many of these areas – both directly and indirectly.
If you are providing high-quality care, shouldn't that be enough? Perhaps, but sometimes we forget to inform our patients about the work we are doing. The patient should not only understand his/her care, but the nursing lingo that goes with it. In the end, they'll know exactly what is being asked of them when they complete their survey.
For example, when checking in on a patient during hourly rounds, you can easily say, "I want to make sure your pain is being managed; is there anything that you need?" At the time of discharge, you can communicate the following: "The information I am providing to you is an important part of the discharge process."
Again, the idea is to familiarize your patients with your actions so that they can easily identify key nursing activities after discharge. These simple additions to your routine will not only improve communication for aftercare, but can have a positive impact on survey outcomes for your facility.
How does your hospital compare
Check out the HCAHPS website. To learn more about HCAHPS, check out the course on RN.com entitled: The Role of the Staff Nurse in Patient Satisfaction and HCAHPS.
Reference:
HCAHPS (2015). Hospital Consumer Assessment of Healthcare Providers and Systems (HCAHPS). Retrieved from here.
© 2015. AMN Healthcare, Inc. All Rights Reserved.