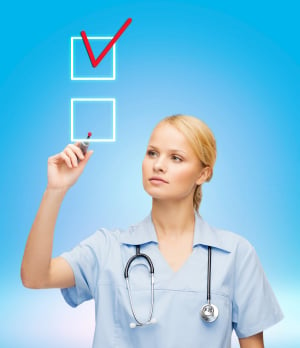 Life Cycle of a Nurse: Nursing Licensure
The "Life Cycle of a Nurse," is a four-part series designed to explore each domain of the nursing journey through progressive phases of a nurse's career. In the previous edition, an overview of professional nursing education emphasized the importance of lifelong learning and academic progression. This third segment focuses on nursing licensure and what it means for healthcare.
You know you're almost a Registered Nurse when…
You've successfully completed your nursing program and begin planning your celebration.
Quickly realize you have one more thing to do before you become a Registered Nurse: Pass the licensing exam.
Panic sets in because the entirety of your nursing education have led to this solitary, yet significant exam…the NCLEX-RN.
Whether you have already taken the National Council Licensure Examination for Registered Nurses (NCLEX-RN), or are planning to take it, this may be a relatable scenario. It is no easy feat to complete nursing school. Pile on top of that, the countless extra hours that will be spent studying for the NCLEX-RN. The result? Achieving the coveted Registered Nurse license – the "RN" after your name that will become part of your lifelong identity. Though there are other nursing licensure exams specific to educational level and scope of practice (i.e. NCLEX-PN, NNAAP, and MACE), this feature will focus on the NCLEX-RN.
A professional license in nursing is important because it sets minimum qualifications/competencies and provides assurance to the public that predetermined standards have been met. According to the National Council of State Boards of Nursing (NCSBN), only 71.69% of the 54,675 candidates that took the NCLEX-RN from January to March 2015 passed. The majority of those candidates were repeated test takers from Associate and Baccalaureate degree programs in the U.S. Also included in this sample size were: 1) First-Time, U.S. Educated; 2) First-Time, Internationally Educated, and 3) Repeat, Internationally Educated.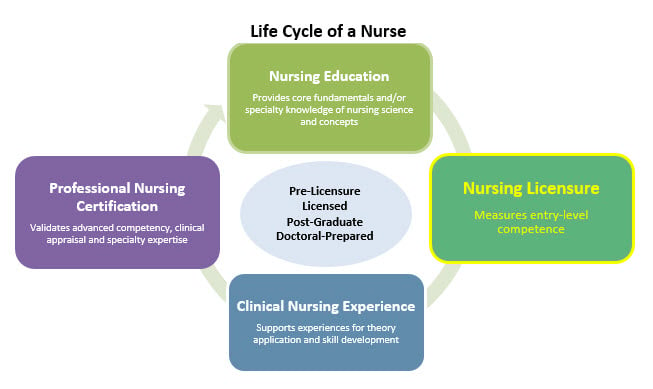 To protect healthcare consumers from potential harm, nursing is also a highly regulated profession. Each U.S. state and territory has its own Nurse Practice Act (NPA) which may vary, but will generally include:
Authority, power, and composition of a board of nursing
Education program standards
Standards and scope of nursing practice
Types of titles and licenses
Requirements for licensure
Grounds for disciplinary action, other violations, and possible remedies
(NCSBN, 2015)
Additionally, each NPA has established its own Board of Nursing (BON) and has developed specific rules and regulations to oversee the safe practice of nursing. Some examples of functions all BONs are responsible for include, but are not limited to:
Evaluating licensure applications
Issuing licenses
Renewing licenses
Taking disciplinary action
(NCSBN, 2011)

Furthermore, the Nurse Licensure Compact (NLC) allows nurses to have a multistate license for their home state and other states that are participating in the NLC. To learn more, go to the Nurse Licensure Compact site.

Overall, passing the NCLEX-RN is a critical milestone because it bridges the gap between a nursing student to a licensed nurse. Also important to note are the additional licensure and certification exams that may apply if you decide to enter graduate nursing school.

The "Life Cycle of a Nurse" is an iterative model where nursing professionals move through each phase from pre-licensure to licensure, post-graduate to doctoral-prepared. There is learning that occurs with each progressive career endeavor, all of which shape and emphasize the value of nursing professionals.

To get up-to-speed on nursing practice, visit the RN.com CE course, Professional Nursing Practice: An Update.
References:
National Council of State Boards of Nursing [NCSBN]. (2015). 2015 number of candidates taking NCLEX examination and percent passing, by type of candidate, 04/21/2015.

National Council of State Boards of Nursing [NCSBN]. (2015). Nurse practice act, rules & regulations.

National Council of State Boards of Nursing [NCSBN]. (2011). What you need to know about nursing licensure and boards of nursing.