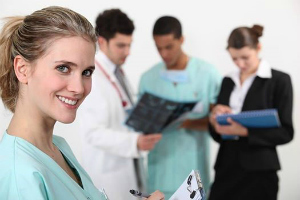 Life Cycle of a Nurse: Nursing Education
The "Life Cycle of a Nurse," is a four-part series designed to explore each domain of the nursing journey through progressive phases of a nurse's career. In the previous edition, an overview of professional nursing certification revealed the positive impacts on nurses, patients, and employers. This segment focuses on nursing education and what it means for healthcare.
Nursing continues to be the largest workforce in healthcare. According to the Bureau of Labor Statistics, "Employment of registered nurses is projected to grow 19 percent from 2012 to 2022, faster than the average for all occupations" (2015). This means that nursing education plays a vital role in developing a more robust nursing workforce to meet the growing demands in healthcare. The education path to becoming a licensed registered nurse begins by obtaining an Associate Degree of Nursing (ADN), Bachelor of Science in Nursing (BSN), or a hospital diploma, though diploma programs are steadily declining due to the shift from hospital instruction to college/university instruction (AACN, 2015). However, which education path is right for you?
The Tri-Council for Nursing is comprised of four organizations: the American Association of Colleges of Nursing (AACN), the American Nurses Association (ANA), the American Organization of Nurse Executives (AONE), and the National League for Nursing (NLN). The Tri-Council for Nursing issued a policy statement in 2010 stating: "A more highly educated nursing workforce is critical to meeting the nation's nursing needs and delivering safe, effective patient care."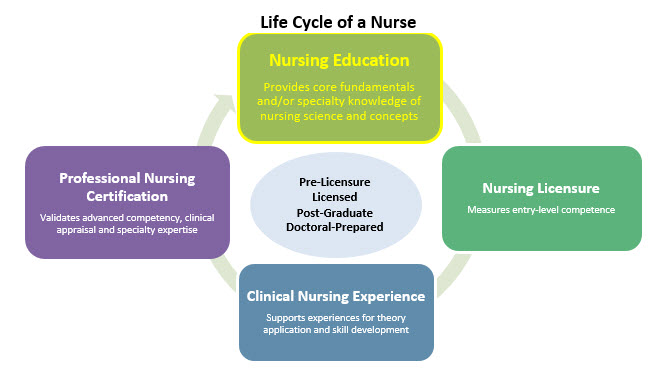 The policy statement emphasized a call to action to advocate for system changes in nursing practice and education. Additionally, realizing the importance of academic progression, nurses should embrace lifelong learning and actively engage in enhancing nursing education. Equally significant is the support from "policymakers at the state and federal levels to fund programs and launch collaborative initiatives that facilitate nurses seeking to advance their education" (Tri-Council for Nursing, 2010).
Advancing nursing education is just one step that nurses can choose to take in order to promote quality and excellence in healthcare today. However, it is a critical step in further developing the nursing workforce. Although these are only a few considerations when deciding on a nursing education path, the journey does not end when you obtain your undergraduate degree. With the complexity of healthcare and a growing need for nursing care, more master's prepared and doctoral-prepared nurses are also needed in various healthcare settings.
The "Life Cycle of a Nurse" is an iterative model where nursing professionals move through each phase from pre-licensure to licensure, post-graduate to doctoral-prepared. There is learning that occurs with each progressive career endeavor, all of which shape and emphasize the value of nursing professionals.
For more information on nursing education programs. Then get up-to-speed on nursing practice with the RN.com CE course, Professional Nursing Practice: An Update.
References:
American Association of Colleges of Nursing [AACN]. (2015). Joint statement on academic progression for nursing students and graduates. American Association of Colleges of Nursing [AACN]. (2015). Nursing fact sheet. Bureau of Labor Statistics [BLS]. (2015). U.S. Department of Labor. Registered nurses. Occupational Outlook Handbook, 2014-15 Edition. < Tri-Council for Nursing (2010). Tri-Council for Nursing Issues new consensus policy statement on the educational advancement of registered nurses. Retrieved from here.