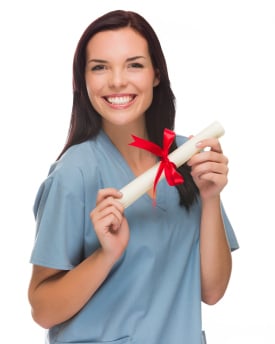 Life Cycle of a Nurse: Professional Nursing Certification
The "Life Cycle of a Nurse," is a four-part series designed to explore each domain of the nursing journey through progressive phases of a nurse's career. This segment focuses on professional certification and what it means for healthcare.
Many of us chose nursing as a career because it was a calling. Then there are those who chose nursing because of familial pre-disposition (i.e. your mom is a nurse; your uncle is a nurse; your grandmother was a nurse, etc.) Still, there are others who entered nursing because of its many benefits. No matter what attracted you to your vocation, one thing is certain: Nursing is a profession that is specialized and challenging, yet very rewarding.
Remember when you finally received your nursing degree and thought, "All I have to do now is pass the NCLEX, and I'm good to go!" But were you? You needed to find a place to begin your career, too! And when you found that job, you gained clinical experiences that enhanced your nursing knowledge and expanded your skillset. It's at this juncture (clinical nursing experience), where many nurses begin to develop advanced competencies, foster clinical judgment, and cultivate specialty expertise. So what happens next for you in nursing?
As lifelong learners of nursing science and concepts, the next step for many nurses would be to obtain their professional nursing certification. Nursing certification is important because it not only positively impacts nurses, but also patients and employers (AACN, 2015). In 2013, the American Nurses Credentialing Center published their certification data and revealed that 175,954 total nurses were certified that year.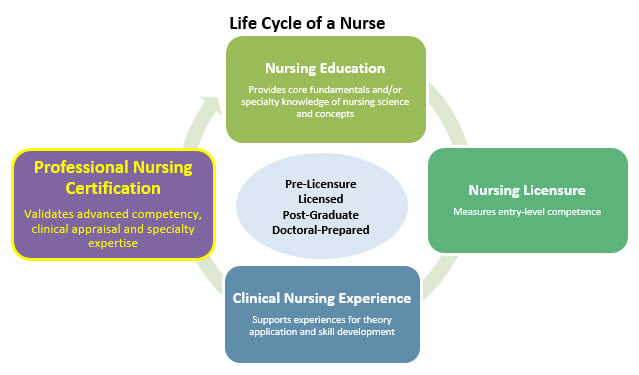 What It Means for Nurses
Establishes professionalism - More confidence, pride, and expertise in a specialty area.
Demonstrates commitment – Advocates and supports nursing best practices.
Validates expert knowledge and skills – Knowledgeable resource for patient care (Ward, 2012).
What It Means for Patients
More favorable patient outcomes when cared for by a certified nurse (Cary, 2001 & Ward, 2012).
Raised awareness of nursing care – Nursing continues to be rated the most honest and ethical profession (Riffkin, 2014).
Assures competence of healthcare professionals – Certification is a mark of excellence for the public (AACN, 2015).
What It Means for Employers
Supports quality measures – Promotes healthcare outcomes.
Facilities become better positioned in the competitive healthcare marketplace.
Influences incentives – Recognized by some insurance programs.
(AACN, 2015).
These are only a few highlights of the benefits of achieving your professional nursing certification. However, the journey does not end when you obtain your professional nursing certification. Rather, the "Life Cycle of a Nurse" is an iterative model where nursing professionals move through each phase from pre-licensure, licensure, and post-graduate to doctoral-prepared. There is learning that occurs with each progressive career endeavor, all of which shape and emphasize the value of nursing professionals.
If you are interested in taking the next step in your nursing career, please visit our site partner, NurseZone, for more information on certification. Then get up-to-speed on nursing practice with the RN.com CE course, Professional Nursing Practice: An Update. Perhaps most importantly, don't forget to celebrate Certified Nurses Day™ on March 19!
References:
American Association of Critical-Care Nurses [AACN]. (2015). Nurse certification benefits patients, employers and nurses. American Nurses Credentialing Center [ANCC]. (2013). 2013 ANCC certification data. Riffkin, R. (2014). Americans rate nurses highest in honesty, ethical standards. Gallup Poll. Ward, J. (2012). Certification in nursing: What it means for you. nursetogether.com.