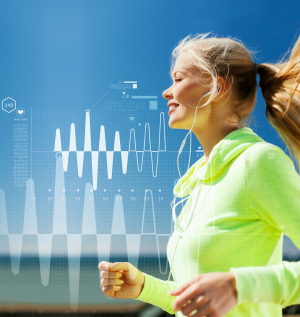 Be Heart Smart: Life Habits to Keep You Healthy
February is American Heart Month. The month is dedicated to raising public awareness of how to modify or control risk factors associated with the leading cause of death for both men and women in the U.S. – cardiovascular (heart) disease (CDC, 2014). Here's to a heart-healthy you because you deserve it!
Eat Healthy:
You may be eating a variety of foods, but is your body getting the healthy nutrients it needs? Choose a balanced, dietary pattern that incorporates nutrient-rich foods such as fruits, vegetables, whole grains, low-fat dairy products, poultry, fish (omega-3 fatty acids), and nuts. To learn more about recommended diets that fit your lifestyle, visit the U.S. News and World Report 2015 Best Diet Rankings.
Burn Calories:
Get active and stay active! Being physically active reduces the risk of heart disease. Physical activity can improve cholesterol levels, help control high blood pressure and diabetes, and manage weight. It also increases physical fitness, promotes psychological well-being and self-esteem, and reduces depression and anxiety. All you need to improve your overall cardiovascular health is 30 minutes of moderate exercise, five times per week! Remember to check with your healthcare provider before starting a new exercise program.
Quit Smoking:
According to the American Heart Association (AHA), smoking is the most significant preventable cause of premature death in the U.S. (2014). Smoking is linked to heart disease, stroke, cancer and other chronic lung diseases. NO tobacco product is safe – cigarettes, cigars, pipes and smokeless tobacco. However, it's not too late to quit! Five to 15 years after quitting the habit, one's risk of stroke decreases to levels similar to that of a non-smoker. And as soon as you quit, the carbon monoxide and oxygen levels in your blood quickly return back to normal.
Manage Your Weight:
Nearly 70% of American adults and about 32% of American children ages 2 to 19 are overweight or obese (AHA, 2014). Losing weight, and keeping it off, depends on a change in lifestyle that combines sensible eating with regular physical activity. By losing weight or maintaining a healthy weight, you will experience fewer joint and muscle pains, a reduced burden on your heart and circulatory system, and better sleep patterns. Know your Body Mass Index (BMI) and talk with your healthcare provider about a weight plan that works for you.
Reduce Stress:
Take action to control your stress! Stress can affect your physical, mental, and emotional well-being. Although the link between chronic stress and heart disease is unclear, one thing is for certain – it can lead to unhealthy lifestyle choices that are associated with high blood pressure. Develop positive healthy habits.
Do things you enjoy, practice positive self-talk, relaxation or meditation, and use emergency stress stoppers to help deal with stress on the spot (i.e. count to 10 before you speak, take 3-5 breaths, etc.). Protect yourself from the harmful effects of stress – your mind, body, and heart will thank you for it!
By making healthy choices now, your heart will reap the long-term benefits of a healthier and happier you! To learn more about the heart, check out the course from RN.com entitled: Understanding Heart Failure.
References:
American Heart Association [AHA]. (2014). Getting Healthy.
Centers for Disease Control and Prevention [CDC]. (2014). Heart Disease Facts.
U.S. News and World Report. (2015). Best Diets 2015.