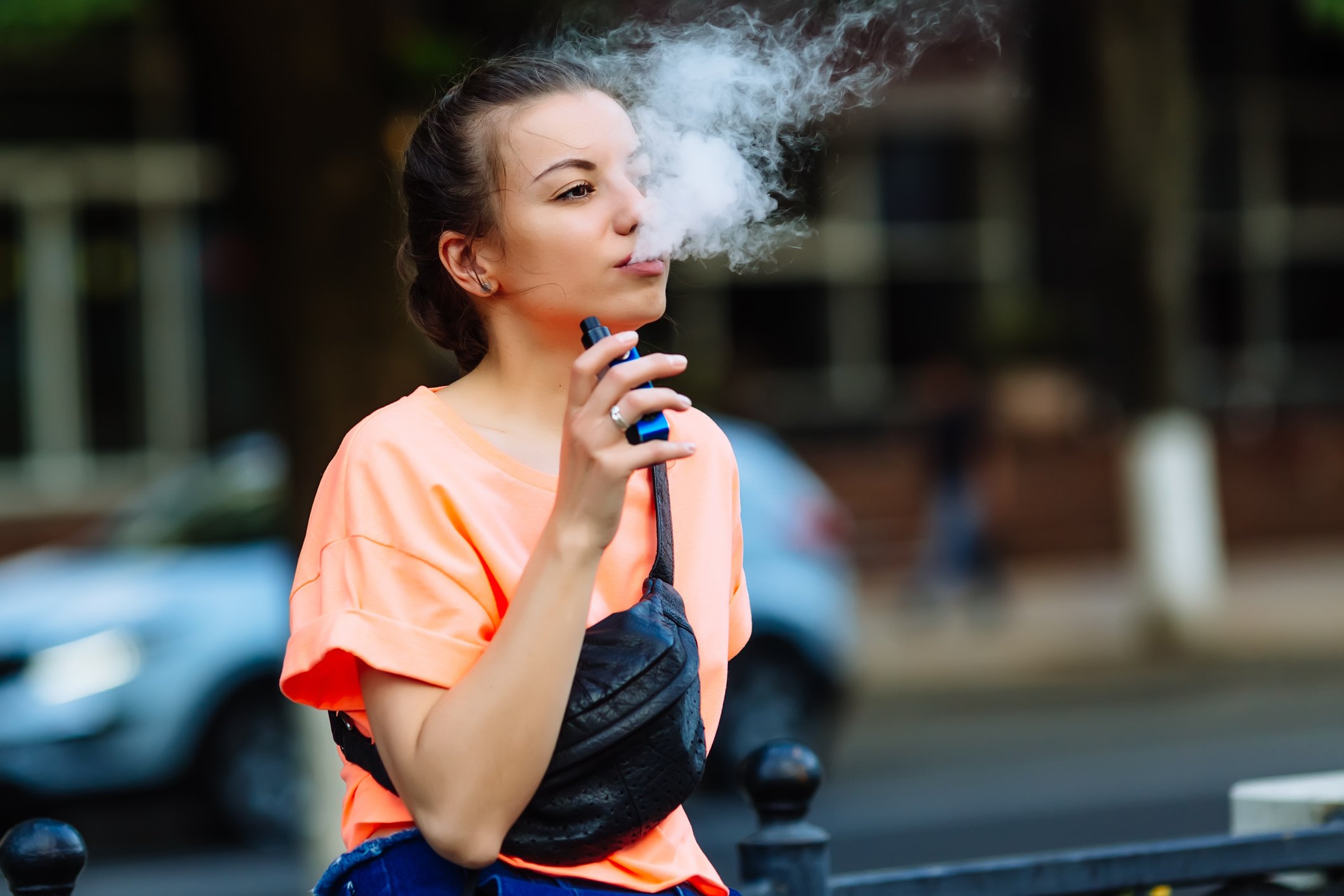 UPDATE: JUUL: The Newest Craze in Electronic Cigarettes
The following article was originally published in June 2019. Since that time there has been a large amount of research and data on JUUL that indicates it is not as safe as originally promoted by the manufacturer. This revised article contains information from the most recent research completed on this product.
Users of electronic cigarettes, or e-cigarettes, may have another option to select from, JUUL. JUUL came on the market two years ago and has cornered nearly half of the e-cigarette market due to:
A sleek design that resembles a USB flash drive
Flavored liquids (mango, mint, crème brulee among others)
The Differences Between JUUL and Other E-cigarettes Include:
JUUL contains 5% nicotine

One JUUL cartridge equals a pack of cigarettes or 200 cigarette puffs

Vape contains 2% nicotine
(Truthinitiatives.org, 2018)
Electronic cigarettes are battery-operated, electronic nicotine delivery systems used to inhale an aerosol, which contains e-juice/e-liquid. Electronic cigarettes are also known as e-cigarettes, e-hookah pens, vapes, vape pens, JUULs and mods (customizable, more powerful vaporizers) (Raising Teens Today.com, 2018 & 2018a; Truthinitiatives.org, 2018).
Originally designed to help adults quit smoking cigarettes, e-cigarettes have turned into a national infatuation. Alarmingly, teens and young adults have found a way to circumvent the protections put in place to limit access to e-cigarettes by those under the age of 21 (Raising Teens Today.com, 2018 & 2018a; Truthinitiatives.org, 2018).
In 2018, National Youth Tobacco Survey conducted by the Food and Drug Administration and the Centers for Disease Control and Prevention, e-cigarette use was up 78 percent among high school students and 48 percent among middle-school students from 2017 to 2018. The total number of middle and high school students using e-cigarettes rose to 3.6 million, an increase of 1.5 million students. This may be due to the discreetness of many vaping devices, as teens are finding it exceptionally easy to hide their addictions (Raising Teens Today.com, 2018 & 2018a; Truthinitiatives.org, 2018).
This data is important because many students believe they are NOT inhaling nicotine, but are only inhaling a flavored liquid. These students appear to be unaware that 99% of all e-cigarettes sold in the country contain nicotine (Raising Teens Today.com, 2018 & 2018a; Truthinitiatives.org, 2018).
While e-cigarettes were thought to be less toxic than cigarettes, by October 2019 18 deaths and more than 1,000 vaping-related lung illnesses were reported in the United States. The fact is that the use of e-cigarettes increases the risk of traditional smoking more than 4 times when compared to non-e-cigarette users. Additionally, studies by the FDA show that e-cigarettes contain many of the same toxic chemicals as traditional cigarettes. Thus there is no reason to believe that they will significantly reduce the risks of smoking-related diseases (Gottschalk, Fraga, Hirchfeld, & Zuckerman, 2019; Ducharme, 2019).
Additionally, researchers acknowledge that vaping has a host of damaging side effects, especially for teenagers. The teen years are critical to brain development which continues into adulthood. Teens who vape are putting themselves at risk for long-term effects because nicotine impacts the development of the brain's reward system. Vaping over a long period of time can not only lead to addiction to nicotine, but it can also make drugs including Cocaine or Methamphetamine, more pleasurable to a teen's brain. Other side effects include:
Bloody sores in the mouth
Popcorn Lung: scarring in the alveoli that causes symptoms found with COD
Smoker's cough
Bloody nose
Dehydration
(Raising Teens Today.com, 2018 & 2018a; Truthinitiatives.org, 2018)
Did you know that JUUL or other e-cigarettes can be converted from nicotine to drug use? All that is needed is a change in the liquid used. Many YouTube videos show how to make liquids. Inhaling marijuana from a vape pen intensifies the user's high (Raising Teens Today.com, 2018 & 2018a; Truthinitiatives.org, 2018).
There is good news. Under FDA guidance, JUUL will no longer offer flavored liquids, thus possibly reducing the attraction to adolescents and young adults (Raising Teens Today.com, 2018 & 2018a; Truthinitiatives.org, 2018).
The ease of use and deception due to the unique but common designs (USB drives and pens) have made it easier to smoke in public. As of October 2019, e-cigarettes have been banned in seven states in America and other states are looking to restrict the sale until the causes of the vaping-related lung illnesses have been determined.
References
Durcharme, J. (2019). As the number of vaping-related deaths climbs, these states have implemented E-cigarette bans. Time.com.
Gottschalk, L., Fraga, J.A., Hirchfield, J. & Zuckerman, D. (2019). Is vaping safer than smoking cigarettes? National Center for Health Research.
Raising Teens Today.com (2018). Is my child vaping: here's 9 signs to watch for.
Raising Teens Today.com (2018a). Vape 101: What parents need to know.
Truth Initiative.org. (2018). What is JUUL.