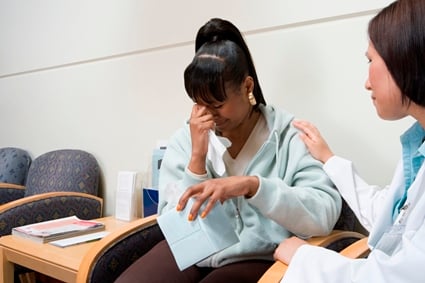 Emotional Impact on Families in the Intensive Care Unit
Imagine being told you have been diagnosed with a life-altering illness and as a result, will need to deliver your baby prematurely, or that your son or daughter was involved in a car crash and has suffered severe head trauma, or that your significant other needs open-heart surgery after a positive stress test. There is no doubt you and your family will experience feelings of great anxiety, fear, and sadness. Each of these experiences may lead to an intensive care unit (ICU) admission for your loved one. An ICU stay will further exacerbate these overwhelming emotions and leave you emotionally and mentally changed.
According to Davidson, Jones, and Bienvenu (2012), one-third of parents with a child in the ICU have clinically significant symptoms of acute stress disorder. Additionally, 40% of relatives with loved ones who are critically ill suffering from anxiety. Depression, anxiety, and post-traumatic stress disorder (PTSD) are found to be at the highest levels in families of patients in the ICU (Jones, Backman, & Griffiths, 2012).
In a study measuring symptoms of anxiety three months post-ICU experience, 44% of family members were considered borderline for anxiety symptoms (McAdam, Fontaine, White, Dracup, & Puntillo, 2012). These studies raise awareness of the emotional and mental consequences experienced by family members whose loved ones are in the ICU.
Offering support and appropriate interventions to help alleviate anxiety, depression or PTSD may provide some relief to patients and families. A 2013 study found that early implementation of a structured plan, such as the Surgical Intensive Care (SICU) Family Supportive Care Algorithm, identifies best-practice methods to support patients and their families (Huffines, et al., 2013).
One method to encourage patients and family members is to keep a diary or journal of their emotions and feelings. The study found that when family members kept a diary, feelings of connection, participation, and strength were identified (Johansson, Hanson, Runeson, & Wahlin, 2015).
Another study, published in Critical Care Medicine, was conducted to identify and analyze the emotional and mental health issues that can occur in families involved in an ICU stay--during and post-discharge. The study revealed types of interventions families found beneficial, and also identified several support measures. For example, top supportive measures include communication and family involvement. Families who felt they received timely updates, had their questions answered, and felt they were involved in their loved one's care reported lower overall stress responses and potential long-term effects.
Conversely, psychological distress appeared to be more severe when family involvement was not honored. In addition, the way in which clinicians communicated also made a significant impact. Healthcare providers who were attentive to questions and involved family members and patients in the plan of care, positively affected the long-term effects of the stress and emotional trauma caused by an ICU stay (Davidson, Jones, & Bienvenu, 2012).
Nurses play an important role in caring for ICU patients and their families. Nurses need to assess and identify the potential for family members to experience anxiety, depression, and/or PTSD when their loved ones are patients of an ICU. By having open lines of communication and family involvement, ICU nurses can recognize early signs of family distress, offer support within and outside of the institution, and positively impact the family members' personal after-stay outcomes.
References
Davidson, J., Jones, C., & Bienvenu, J. (2012). Family response to critical illness: Post intensive care syndrome-family. Critical Care Medicine, 40 (1), 1-7.
Huffines, M., Johnson, K. L., Smitz, L. L., Lissauer, M. E., Fishel, M. A. M., D'Angelo-Howes, S. M., Pannullo, D., Ralls, M., & Smith, R. (2013). Improving family satisfaction and participation in decision making in an intensive care unit. Critical Care Nurse, 33 (5), 56-69.
Johansson, M., Hanson, E., Runeson, I., & Wahlin, I. (2015). Family members' experiences of keeping a diary during a sick relatives stay in the intensive care unit: A hermeneutic interview study. Intensive and Critical Care Nursing, 31 (4), 241-249.
Jones, C., Backman, C., & Griffiths, R. D. (2012). Intensive care diaries and relatives' symptoms of posttraumatic stress disorder after critical illness: A pilot study. American Journal of Critical Care Nurses, 21 (3), 172-176.
McAdam, J. L., Fontaine, D. K., White, D. B., Dracup, K. A., & Puntillo, K. A. (2012). Psychological symptoms of family members of high-risk intensive care patients. American Journal of Critical Care Nurses, 21 (6), 386-393.